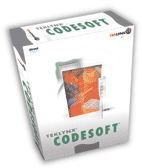 Scarica la versione demo cliccando sul symbolo Acrobat. La tecnologia dei codici a barre è usata ormai da molto tempo nelle industrie come il settore medicale, l'automotive e le catene di produzione.
CODESOFT, software d'etichettatura e d'integrazione di codici a barre, propone delle funzionalitа avanzate che offrono un livello superiore di connettivitа, sicurezza ed interoperabilitа dei dati.
Business environment, so data integration has to be as flexible and open as possible.
Data in multiple languages arrives from everywhere - it may start out as a Microsoft® Word file, a Lotus® spreadsheet, or a database on a host computer. Now with CODESOFT 7's powerful data management capabilities, the data-to-label operation is easily accomplished.
CODESOFT 7 is the perfect label design software to connect thermal printers to mainframes through any enterprise network. It allows the integration of data, whatever the data source. This connectivity can be achieved through specifically developed links to the most popular enterprise software packages on the marketplace, or through middleware solutions specifically designed for CODESOFT software.